giveaway
linkparty
Sponsor
style
BIRTHDAY GIVEAWAY:ARROWINTHEEYE&LENAB,ACTUALLY
12:00 AM
 Today I have my last set of sponsors invading the blog! Usually on Thursdays I host Thrifty Thursdays Link Party with Lara's Vintag...
Today I have my last set of sponsors invading the blog! Usually on Thursdays I host Thrifty Thursdays Link Party with
Lara's Vintage
, welp, I'm still hosting but I have no thrifted goodies to show. Instead, I'll be showing off these amazing sponsors and prizes! I hope that you all show these ladies some love, and if you have thrifty finds, link them up. Just because I was a lazy thrifter this week doesn't mean I don't want to see the lovely things you've found! I've been really thrilled to see all the new faces that have been linking up!
Arrow in the Eye
I've been a
Plastic Land
admirer for quite some time now, so when Beth decided to offer up a $25.00 gift card for the giveaway I almost jumped for joy! I love the rockabilly / pinup vibe of most of their clothing, and they have fun home accessories too!
The above are some of my favorite pieces from plastic land! If you win the giveaway you could use that monaayyy towards one of these items and their are plenty of other things to choose from too!
A big thank you to Beth for taking part!
I love her blog, and I'm so please to have her as one of my newest Fall sponsors!
When is your Birthday?
July 25th
Stand out birthday party memory?
The ponies my mom would rent for them. We had a full on traveling petting zoo come to the house ponies, goats, bunnies, and miniature donkeys
Favorite Gifts?
I have two gifts that were my most favorite, my surf board (14th Bday) and a personalized signed book by Bill Clinton (19th Bday). So I guess that would make me a surfing political nerd.
This lovely blogger and fellow mommy just had a huge blog overhaul and I love it!!! She has been a fantastic sponsor of mine and was wonderful enough to throw a
Modcloth
gift card your way! Who the heck doesn't like Modcloth?! I am a huge fan and I find myself on their website for hours lusting over their amazing dresses and their apartment section. Lets face it though, they are expensiveee! I cannot justify spending so much money on clothing, so this little gift card will be the perfect thing to ease your mind and your pocketbook.
Thank you so much Lena for being so generous and offering this gift card!
What is your date of birth?
My birthday is November 12th
Best birthday memory?
M
y 28th birthday stands out... I was just a couple weeks from having my second baby and the hubby surprised me a pedicure appointment and dinner with my family!
Best Gift you've received?
The best gift I ever received was a "wolf dog" stuffed animal I got on my first birthday. I still have it, LOVE it and now my son has it.
Now go check them out, and if you have any lovely thrifty finds to share, link up below!
This link party was created to bring together all of you thrifty bloggers! So link up with your blog post showing your recent thrifted finds!
Tweet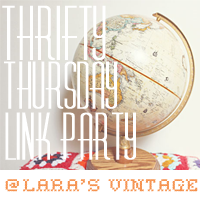 <div align="center"><a href="http://larasvintage.blogspot.com/search/label/thriftstorefinds 
" title="redrosevintage" target="_blank"><img src="http://i1262.photobucket.com/albums/ii617/redrosevintage/thriftythursday.png" alt="redrosevintage" style="border:none;" /></a></div>