Hello all of my lovely readers old and new! It's Thursday which means it's time to show off your thrifty finds! This link party, starting in November, is going from every week to twice a month, so hopefully that will make it easier on those of you who want to link up but don't go thrifting every week!
This week I got some pretty amazing finds at one of my local Goodwill stores.
Excuse my terrible quality picture!
1.// My obviously attention starved cat. 2.// 3 yards of vintage floral fabric. 3.// Cream cup
4.// Three floral vintage plates. 5.// Floral loafers from Target!
What thrifting gold have you dug up lately? Link it up!
Have a fantastic Thursday!
It's that time again! Let's see what goodies you found!!
This link party was created to bring together all of you thrifty bloggers! So link up with your blog post showing your recent thrifted finds!
Tweet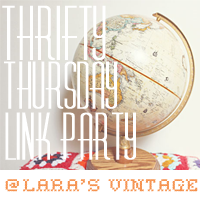 <div align="center"><a href="http://larasvintage.blogspot.com/search/label/thriftstorefinds 
" title="redrosevintage" target="_blank"><img src="http://i1262.photobucket.com/albums/ii617/redrosevintage/thriftythursday.png" alt="redrosevintage" style="border:none;" /></a></div>