This week for Thrifty Thursday I'm bringing you something a bit different. A while back a website called
Bookoo
contacted me and asked me to review their site. Seeing as I'm a huge thrifter, I'm always looking for new ways to find yard sales and vintage finds in my area. This site is fantastic for just that. Bookoo is your "local online yard sale" where you can find and plan your thrift in your area! I used the
O'Fallon MO
and
Belleville IL
sites to plan my thrift and I made out like a bandit! Although the O'Fallon site is more my area, I couldn't find quite what I wanted so I jumped on over to the Belleville site and I found gold. A huge thanks to Bookoo who provided me with a $25.00 gift card to aid in my thrifting adventure! They were fantastic to work with and kept in touch with me on a personal level with was fantastic.
I ended up finding this lovely love seat for $50.00, I used my gift card and only paid $25.00 for it. Can you believe it?! What a steal.
Right now its very shabby chic, but I have big plans for this darling.
It's been gloomy here in Missouri, so excuse the horrible quality photos!
If you love yard sales and thrifting like me I suggest you visit your local Bookoo site and find what's in your area and if you have something to sell, post it on your local Bookoo so others can take it off your hands and you can make some cash in the process!
I had a very positive experience with this site, and I would highly recommend using it!
*This review is solely my opinion and my opinion only. Even though I was compensated for my review, my opinion is honest and true. I only review sites, businesses, products, and blogs that I believe in and that I think will appear to my readers.
If you try out the site, let me know! I want to know how your experience goes!
This link party was created to bring together all of you thrifty bloggers! So link up with your blog post showing your recent thrifted finds!
Tweet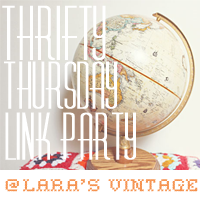 <div align="center"><a href="http://larasvintage.blogspot.com/search/label/thriftstorefinds 
" title="redrosevintage" target="_blank"><img src="http://i1262.photobucket.com/albums/ii617/redrosevintage/thriftythursday.png" alt="redrosevintage" style="border:none;" /></a></div>