It's the last Thursday of not only the month, but the whole year! We made it through the Mayan Apocalypse and Christmas, so what better way to celebrate than to Thrifty Thursday! I've been away for awhile which gave me plenty of time to hit up some thrift stores and collect plenty of goodies. If you thrifted during this hectic holiday season link up with us and show off what you found!
GypsyBeeeVintage
has also been on a small vacation due to the holidays and I've been working hard to build up a new stock for the new year. When the shop opens back up in January you can find these items listed and ready to take home!
This link party was created to bring together all of you thrifty bloggers! So link up with your blog post showing your recent thrifted finds!
Tweet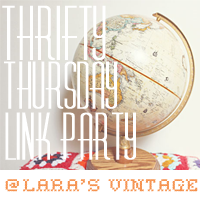 <div align="center"><a href="http://larasvintage.blogspot.com/search/label/thriftstorefinds 
" title="redrosevintage" target="_blank"><img src="http://i1262.photobucket.com/albums/ii617/redrosevintage/thriftythursday.png" alt="redrosevintage" style="border:none;" /></a></div>