linkparty
Recipes
Cheap and Easy // Flavored Water.
12:00 AM
Recently I've been on a health kick and I'm pretty proud of the progress that I've made, I'm down 15 pounds even in the...
Recently I've been on a health kick and I'm pretty proud of the progress that I've made, I'm down 15 pounds even in these busy times. I've been trying hard to eat healthy, cut down on sugary drinks, and be more active. With the help of pinterest this new healthy venture has been surprisingly easy, I've found so many healthy recipes and alternatives to keep me going. The hardest part of it all I have to admit is keeping myself hydrated, which is super important if I want to maintain all the progress I've been making. I have been noticing so many pins about making your own flavored water, so I thought I would try it out. Not only have I been more excited to drink a healthy serving of water, but it's such a cheap alternative to store bought flavored water!
1.// Mason Jars.
2.// Water, you can use mineral or sparkling if you please!

3.// Fresh Fruit or Frozen Fruit.
4.// Fresh Mint.
I used fresh lemon and blueberries for my water, but you can find so many insane and delicious flavor combinations
here
! Then I just stuck my sealed mason jars in the fridge overnight and I'm all stocked up for the next day. Don't be afraid to try your own and mix it up! I'm sure the possibilities are endless.
If you make your own water, let me know what flavors you try! I'll be making more soon and I want more yummy flavors to taste!
Have a wonderful Monday and don't forget to link yourself up to The GFC Collective! I've almost reached 500 followers via GFC and I couldn't thank you all enough for following along!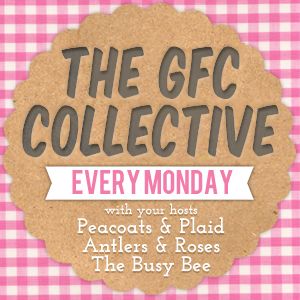 Welcome to the weekly "GFC Collective" party :) This is a link up for bloggers who want to gain followers and meet some awesome new bloggy buddies. I have met some pretty neat people by following them with GFC. It's so easy to keep up to date with all of my fav blogs :)

Not sure if this is the blog hop for you? Listen to what other bloggers have to say...
"Just to let you know, your blog hop is the best I've participated in for gaining new friends!!! I couldn't believe the results!! Thank you!"
- Danavee,
This Vintage Grove
"I'm dropping by to let you know that I love being a part of your blog hop!
I have been meeting really nice bloggers. Bloggers who are actually friendly and want to connect!
I'm putting the blog hop button on my side bar, like, permanently! Everyone should know about it.
Just thought I'd share with you.
Thank you."
-Vickie,
Oh Abby Day
"Hi BreAnna, just want to say that your blog is beautiful, creative, and fun. The GFC collective is one of my favorite parts of the blogging week. Love meeting new friends and fellow bloggers. We just started our blog and were amazed at how helpful the GFC collective is! Keep up the amazing work."
-Alea and Rachael,
Sparkle Your Life
"This GFC Collective Hop is seriously one of the best link ups out there! Through this hop I have found so many great blogs & friends that I wouldn't have otherwise found! Thank you so much for hosting such a fun link up! Please take the time to link up & join along! You won't be sorry that you did!"
-Amy @ Keepin' Up With the Smith's
Has the GFC Collective done wonders for your following? Let me know, shoot me an email at
peacoatsnplaid(at)gmail(dot)com
and our lovely co-hosts for the week
...want to co-host? Email Bre at peacoatsnplaid(at)gmail(dot)com