It's Thrifty Thursday again my friends! I look forward to these posts so much when I get a few good hauls in! Yesterday we talked about Pyrex, so why not just keep going? I had one of the best Pyrex thrifting weeks of my life! The husband finally broke down and we spent a whole day last weekend just driving around and stopping at every place we could. I ended up spending a whopping twenty on all this stuff and this isn't even all of it! I found more Pyrex mugs, Pyrex plates, and a killer cheese tray that matches the peanut jar shown! The shop is definitely getting stocked up with some new goodies. I'm already sorting everything "one for you, two for me"! Sorry, it's hard to say goodbye to Pyrex!
1.// This was the super score for me. I have a bunch of mixing bowls but this butterfly gold is hugeeeeee and a decent price. 2.// More teacups and a divided dish lid, because I need so many. 3.// I can't get enough of Spring Blossom! 4.// A fun peanut jar and a super creepy and amazing vintage Avon bottle. Those eyes are staring into my soul. ahhh!
//Also while your here,
Enter To Win
my March Sponsor Giveaway before it ends, and hop on over to
Okay,Allison
! and check out the feature she did on me! Get to know me, get to know her, what's better? She's so sweet and I love her! Go Go Go!
This link party was created to bring together all of you thrifty bloggers! So link up with your blog post showing your recent thrifted finds!
1. Follow your hosts through GFC or Bloglovin'
2. Link your post with your thirfted things. (can be from thrift stores, flea markets, swap meets, craigslist, estate sales, etc)
3. Visit one another. Make new friends!
4. Grab the button and add it to your blog.
5. Share this with your friends! Let's grow this awesome link party!
Tweet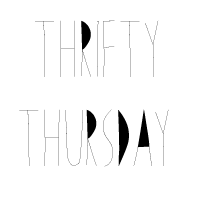 <div align="center"><a href="http://www.anchorsandhoney.com/" title="anchors and honey"><img src="http://i1262.photobucket.com/albums/ii617/redrosevintage/thursday_zpsa3ea8daa.png" alt="anchors and honey" style="border:none;" /></a></div>